If you suspect toxic black mold is in your home, don't delay when it comes to seeking a reputable mold remediation company. Generally, most types of household mold are harmless, but black mold can be detrimental to you and your family's health if left to thrive. Black mold can be found in various places within your home, including: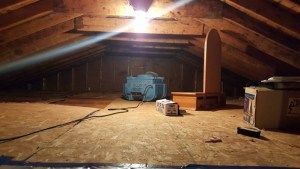 Basement
Attic
Kitchen
Crawl spaces
Bathroom
Garage
Ideal Environment for Black Mold
The toxic fungus generally needs dim lighting, moisture, a warm environment and a food source such as upholstry, paper, drywall, wood and other surfaces in your home. What many homeowners don't realize is that this type of mold can grow and spread without being visible to the human eye. Our mold remediation crew often finds black mold lurking within walls, under floorboards or within ceiling tiles.
Understanding How Black Mold Affects Your Health
Unlike other types of mold, toxic black mold will generally cause health issues for you and your family. If you or your family members experience allergy symptoms when within your home, such as sneezing, coughing, and other upper respiratory issues, then black mold is likely the culprit. At Bay State Mold Removal, we encourage all homeowners who suspect black mold to opt for mold testing. Even if the test comes back negative, it's better to be safe than sorry.
Our Black Mold Removal Process
Our professional black mold removal company will quickly respond to any black mold problem. We will first survey the extend of the damage and colony growth, then identify the cause or source of the mold, then work to remediate the issue. Bay State Mold Removal will quarantine the entire affected area and use state-of-the-art remediation techniques to ensure every last mold spore is eradicated. Our process is quick, thorough, and effective — which means you can guarantee results.
Contact Bay State Mold Removal today to get a free mold inspection and a project estimate!