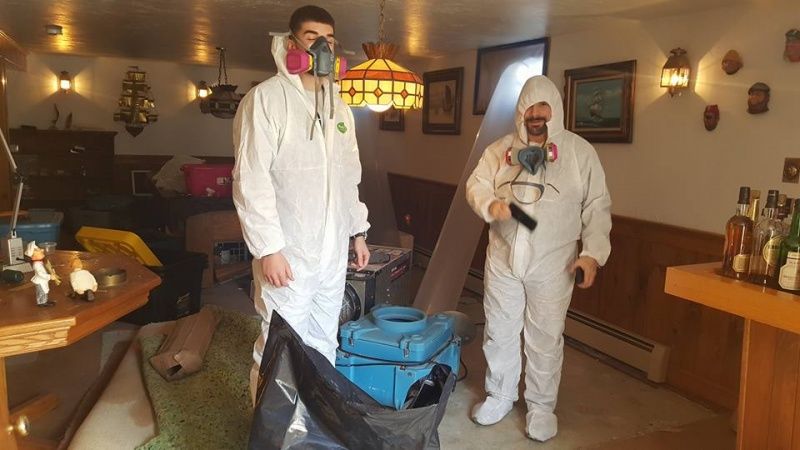 One of the most common places where homes have mold is in a basement. Basements are notorious for being dark, damp and with little to no air circulation — the perfect living situation for mold growth.
Unfortunately many homeowners don't frequently go down into their basements, so mold ends up growing and thriving down there, starting in just a small corner and spreading over the course of a few weeks, months, or even years. At Bay State Mold Removal, it's our job to make sure that your basement is mold free.
Our Basement Mold Removal Services
Removing mold from basements is a complex process that should only be done by a professional. After conducting a thorough surface and air test for mold, if the results come back positive from the lab, then our mold remediation crew will get to work prepping your basement for remediation. This setup process includes making all vents, windows, and doors air tight so that no mold spores can travel throughout the rest of your home during the remediation process.
Once all gateways are sealed shut, our crew uses the latest mold remediation technology including HEPA vacuums, air purifiers, and wet vacs (in the event of a flooded basement). If mold is suspected to be lurking behind drywall, wooden baseboard, or on cinder blocks, these materials may need to be permanently removed and replaced. After all traces of mold are removed, it's time to bring out the industrial-grade fans to ensure that all of the moisture in the basement is completely eliminated.
Why Choose Our Basement Mold Remediation Company
Bay State Mold Removal services Peabody, Reading, Lowell and the entire North Shore area and greater Boston area. We put our customers first and foremost because we understand how detrimental basement mold can be to you and your family's health. Our mold remediation company has years of industry experience working with older homes, newer homes, apartment complexes and townhouses across the eastern part of Massachusetts. Many homes, thought they may look beautiful on the surface, often suffer basement leaks and floods. If this is the case, our professionals recommend basement waterproofing after the mold is removed.
For more information on the benefits of basement waterproofing, or for fast, 24/7 mold removal services please contact us!